Property at a Glance


Site: Total Tract 110 Acres
93.45 Acres unplatted East of Interstate 44.
11.88 Acres platted as 35 single family lots.
4.11 Acres unplatted west of Interstate fronting on Country Club Road.
Property Type: Vacant Land
Commercial/Retail potential, fronting on Country Club Road.
Remaining land is likely single family residential.
Property Address: Southwest corner of 9th. and Country Club Road.

Description: Rolling pasture land with trees and small creek running through. Adjacent to single family residential area.

Access/Frontage: West Country Club Road, Sleepy Hollow Blvd., Dunhill.

Zoning: Single Family Residential.

Flood Plain: Approximately 10% of FEMA map.

Utilities: All utilities available to the site.

Surrounding Property: Single family homes, small businesses and farmland.


Location Maps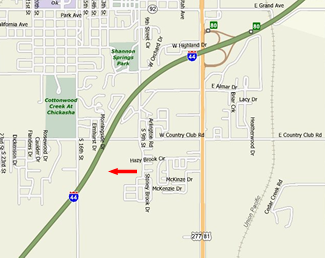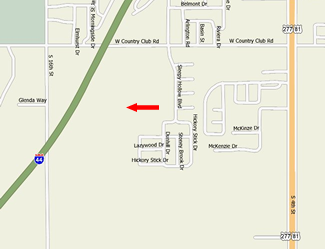 Ace Investments, Inc.
LaForge Properties LLC
2808 South 4th Street
Chickasha, OK 73018
Phone:
405-222-3050
Fax:
405-222-1793
Email:
property4@laforgeproperties.com